When I was a kid,the most exciting part of my day was waiting for the mail. I had pen pals from across the world and family members that still practiced the art of writing on fine stationary. Opening a letter with a fancy wax seal was a simple moment of joy.
Flash forward to adulthood (with my sophomoric sense of humour and general goofiness, I use that term loosely) when the mail becomes something to dread because all you get are bills and bits of junk mail that won't go away. Gah!
Solution: Sign up for a monthly subscription box full of vegan goodies delivered to your door! These services are fantastic if you enjoy trying new products,but live in a location that has a limited variety of vegan items.
My favorite sites are Vegan Cuts and Conscious Box. Vegan Cuts has just released their new bigger and better snack box,almost doubling the amount of goodies contained in the December box.
Items included in my January Vegan Cuts box:
Cuppow-Turns a Mason Jar until a travel mug
Beanfield's Chips (GF)- Pico de Gallo AND Salt n' Pepper (eating these with spinach dip right now!)
Dandies Vegan Marshmallows(GF)- A classic pantry "essential".
NY SuperFoods Manhattan Mud Chia Peanut Butter- No salt or hydrogenated oil (no palm oil). This is not labeled as gluten-free
Nutcase Crunch(GF)- Almonds,pecans, coconut and pine nuts. I sprinkled this on a salad and it was quite tasty.
GoRaw Banana Bread Flax Bar(GF)- I buy these all the time to eat before I hike…happy to get another one.
Just Pure Foods Chocolate Kalenola(GF) – Chocolatey kale chip granola-ness.Your brain will be like, "whuuuut?!" and your mouth will be like, "more please!"
Organic Freekeh-*Recipe card included* Roasted green wheat. This is actually a pretty good sized bag at 8oz. and will make four servings. I've dabbled using freekeh in recipes but since I'm reeeeeally trying to go gluten-free, I'll probably share this with a friend.
PÜR Gum(GF)- Wintergreen. Fresh breath is a priority in my life, so I'll be carrying this is my purse.
Moringa Tea- According to Ayurveda, the oral tradition of Indian medicine, Moringa prevents 300 diseases. I am not a tea connoisseur but I thought the flavor was similar to a light green tea.
$25 iTrain Gift Card- Download mp3 workouts. The cost of each download is between $5.99-$10.99 so I downloaded two of the ballet sculpting routines. So convenient to add the free workouts after I chowed down on all the snacks!
I was excited that almost all of the products in this month's box were new to me and super bonus that I liked everything after sampling.The Cuppow alone would be almost $11.50 so you definitely get your money's worth with this box.
Conscious Box offers a classic box (vegetarian friendly), the vegan box and just introduced the new gluten-free box(GF review next month). Be sure to specify which one you'd like when you sign up.
Happy Squeeze – Strawberry Kiwi Beet fruit & veggie twist. I take these along to slurp down after I hike.
Peeled Snacks Apple Cluster(GF)- Berry flavored and surprisingly satisfying when I have a sweet tooth.
Nutiva Hemp Seeds(GF)- I blast these in my Vitamix with some water to make my own hemp milk.
People Towels- Save a tree, carry this washcloth sized towel around with you to wipe your hands.
Simply Straws- Glass straw. Love this idea but the straw is only six inches, the glasses I drink out of are seven inches, and so it's a bit awkward. Just call me a size queen. I did a little searching and they do make a 10-inch straw along with a cleaning brush that you can purchase here
Dale's Raw Protein Bar(GF)- Blueberry Macadamia. YUM! This is seriously one of the best tasting bars I've had in a while. Really wonderful texture and flavor.
Hail Merry Macaroons(GF)-  Coconutty-choco heaven in a cookie.
Maakoa Koopuwa- Antioxidant elixir made with cupuacu, acai and other super fruits. Tastes like Welch's grape juice
Amazing Grass Kidz Superfood- Wild berry flavor drink powder. Will add this to my travel kit.
Dr.Singha's Mustard Bath- This is the only item I'm not thrilled about because 1)I don't have a bathtub, only a shower and 2)a mustard bath does not sound sexy to me at all.
Conscious Box also includes coupons for most of the products featured in each monthly box, with offers ranging from 10-20% off or buy one get one free. You can see what was in some of the previous boxes here .
Conscious Box has had a few hiccups with products containing bee derived ingredients making their way into the "100% vegan" box. I remember there being a tea with honey in the box a few months back and this month there was a lotion with beeswax (not pictured because I gave it away). I reached out to Conscious Box to ask about this issue and I received this response from Jesse Richardson who handles customer support :
"Unfortunately, Bodhichitta Botanicals, an item in January's vegan box, contains beeswax, a non-vegan ingredient. While some vegans (aka "beegans") are okay with using insect ingredients, other vegans are not. Because the box is marketed as "vegan," Conscious Box will work diligently to prevent any other bee products in the box – these are not vegan and therefore will be excluded."
I have ordered both of these services for myself and been very pleased with the shipments. Both Conscious Box and Vegan Cuts charge $19.95/month (shipping included). Vegan Cuts will ship to Canada for an additional $8 and you can sign up for the newsletter to be notified of new offers. Conscious Box does not currently ship outside of the U.S., except to APO addresses.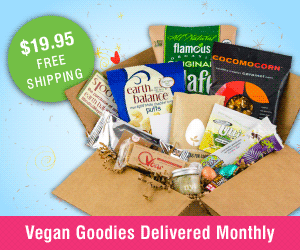 *Disclaimer: This is not a paid advertorial. I have paid for and ordered boxes from both Vegan Cuts and Conscious Box in the past. I received gratis January boxes from both Vegan Cuts and Conscious Box but I do not promise favorable reviews in exchange for free product. My opinions are always honest and I do not share reviews for products/services that I do not use myself.This post contains affiliate links.
© 2013, Veggietorials. All rights reserved.Use of any content or image requires a link back to the original post