I was so happy to find my Vegan Cuts Snack Box waiting for me when I got back from Alaska.It certainly helped ease the pain of having to open three weeks worth of un-fun mail.I tend to hoard all of the sample size goodies so I'm well equipped when travelling.Several of the products from previous boxes came in handy on my recent cruise.Single use laundry detergent,organic food bars and plant-based protein powder were life-savers.
In the July snack box:
GoVeggie Parmesan– Soy base + rice flour cheesy topping.I'm using some in a chive pesto tonight for an easy humpday meal.
The Good Bean's Sweet Cinnamon roasted chickpeas- Enjoying these with a plate of fresh fruit as a quick breakfast
Michy's Cookies CranRustica– Gobbled it down in 3 bites,yum!errr,I mean oopsie
Earnest Eats Dark Choco Mint Food Bar-Very filling,not too sweet.Yup,feels like I'm eating something healthy.
Macro-Life Naturals Macro Greens- This is what I needed to take along on the cruise ship when I was missing my green smoothies
Fanciful Fox Peanut Butter Lip Balm- It's like kissing a peanut butter cup candy
Salba Chia Seeds-These are going into a recipe for Coconut- Mango Chia Pudding,coming soon on my YouTube channel
Snapz-Crunchy zucchini bits,eat 'um straight up.
Ultima Replenisher– Awesome to add to a water bottle for an electrolyte boost when I hike.
Beanfields Rice Chips-Killing these with fresh mango salsa as a summer snack
You can order the VeganCuts snack box as a monthly subscription and cancel at any time or send it as a gift.Free shipping to all 50 states in the USA.The box typically has about 7-10 100%vegan products.About 80% of the items are gluten-free.If you're looking for great deals on specialty food,beauty or eco items,check out the VeganCuts marketplace.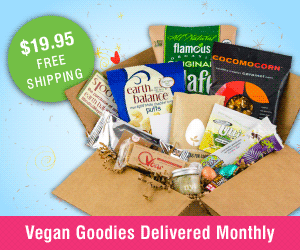 Disclaimer:This post was not sponsored but does contain affiliate links.I received this box as a gift.My opinions are always honest.
© 2013, Veggietorials. All rights reserved.Use of any content or image requires a link back to the original post