So, remember that time I got a chance to meet one of the co-founders of Vegan Cuts, Jill, when I was at ExpoWest back in March?
I was gushing to her about how much I love theVegan Cuts snack box filled with awesome goodies, eco products and new brands to discover. Since I live on an island where we get everything months after it hits the mainland markets, ordering the box keeps me connected to what's new and gets the latest and greatest plant-based products delivered right to my door.
Then I told Jill that I had a wild dream about all the snacks dancing around in a stop motion video. She was like, Really? Let's see what ya got. And that's how I got the opportunity to bring my crazy idea to life and make this video for them! This project took over two weeks to shoot. It's quite a painstaking process to set up each frame.The one-minute video is the result of over 1500 photos (about 30f/sec) and was a super fun challenge for me to try out some new techniques.
I always want to share the love with you guys too, so Vegan Cuts is generously donating a 3-month subscription for me to giveaway to one of you! If you can't wait to give it a try, you can order your vegan snack box HERE
Here's a peek at some of the goodies from previous boxes
Here's how to enter: (Giveaway is now closed and the winner has been contacted)
1)   Sign-up for the VeganCuts newsletter . If you are already signed up for the newsletter,you won't be added to the list twice and you can still enter the giveaway by following the link and adding your email address.
2)   Follow VeganCuts on Instagram,Twitter or Facebook ,say "Aloha" and tell them Veggietorials sent you.Tag me @Veggietorials on whichever social media you choose to do this on so I can make sure this step is completed.
3)   Subscribe to my YouTube channel. If you don't have YouTube account, you can sign in with your Google ID/Gmail account.
4)   Leave a comment on this blog post letting me know that you completed all 3 steps
5)   Giveaway ends May 22,2013. I will select (1) one winner to receive the  prize and contact them via email. Please make sure that your comment here is connected to a valid email address. The winner will have 48 hours to respond with their shipping info or an alternate winner may be chosen.
*Giveaway open to anyone with a US/Canada shipping address
 Want another chance to win?
If you ordered the April snack box, Vegan Cuts is also giving you a second chance to win by showing off your own video skills:
1) Make a short video about your April Vegan Cuts Snack Box. It can be an unboxing video showing off all your goodies, or just a quick review of your favorite products in the box. As long as it's about the box, it counts!
2) Upload the video to YouTube or Vimeo and include a link to http://vegancuts.com/snackbox in the video description
3) Email the link to support@vegancuts.com by May 9th.
On May 10th, they'll pick their favorite video and give that person their next three boxes at no cost. We can't wait to see your reactions!
PS. Your odds are good, not everyone is brave enough to make a video 😉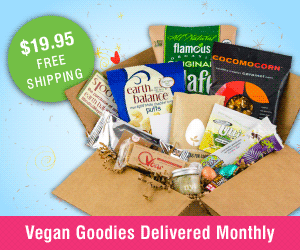 Disclaimer:This video was sponsored by Vegan Cuts
© 2013, Veggietorials. All rights reserved.Use of any content or image requires a link back to the original post